Subscribe to get the Church's latest news via email

Sunday Morning News
 Week of 10/07/18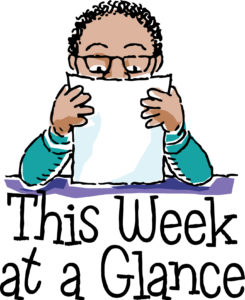 Upper Room Prayer Group, Wednesday, 6:00 pm.
Adult Choir, Wednesday, 7:00 pm. 
Board of Deacons Meeting, Thursday, 6:30 pm.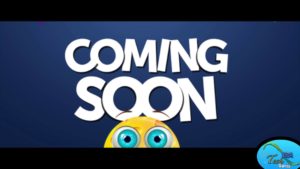 CROP Walk, Sunday, October 14th, 2:30 pm, beginning at the United Methodist Church, Main and South Streets
Board of Trustees Meeting, Thursday, October 18th, 7:00 pm
News this week

Be a CROP Walker
Impact of the CROP Hunger Walk
Regardless of its size, your gift can have an impact around the corner and around the globe. Here are some examples of what your gift could accomplish:
$1 = $10 of groceries: U.S. Foodbanks can distribute $10 worth of groceries for every $1 given to them.
$10 = 10 jerry cans: ensure that water makes it into homes without contamination.
$25 = 50 chicks: a self-propagating food source for extra nutrition and extra income.
$25 = Seeds and tools for a garden: added nutrition and income for families.
$30 = One meter of a shallow borehole well: access to clean, safe water.
$50 = 150 meals in a food bank
$100 = 222 pounds of food distributed to families in need.
$125 = A pair of goats to provide milk, fertilizer, protein and income.
$250 = Community seed bank: the seeds a community needs for their individual kitchen gardens.
$1,000 = A pump so a community has access to clean water (and the training to use and maintain it!).
$2,000 = All the assets needed for a sustainable garden, including access to water for irrigation, seeds, tools and training.
$7,000 = Clean water and sanitation for an entire village, including each household, school and health center.
1/4 of money raised in Trumansburg stays in Trumansburg to help the local food bank.
You may give to CROP Walk by giving directly to people in the congregation who are taking pledges or by going on First Baptist Church's website – www.tburgbaptist.com. Click on "GIVING" and click on "CROP Walk." Money goes directly into our bank account, is accounted for by our Financial Secretary, and funds sent to CROP by our Treasurer.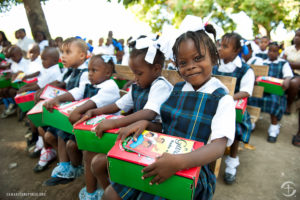 Christmas in the Fall
(Also see: "Operation Christmas Child" on this site)
Its that time of year to begin making pillowcase to place in the shoeboxes to be sent out as part of our Samaritan's Purse Mission for Christmas. Many hands make light work.
If you want to participate and need boxes or instructions, or help, click on "Contact" and, under "Prayer Requests and Messages," add your contact information and message. Or, contact Rodney Porter or Larry Saulsgiver for information. Contact Mary Berry for help making pillow cases. Our goal is 100 pillowcases.
Donations of kid friendly, non-violent theme, cotton fabric are requested as well. Donating dollars to be used to purchase fabric and shipo boxes are also welcome.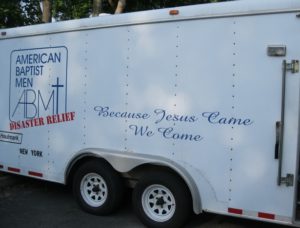 Call Out for Men & Women from NYS ABMen Disaster Relief
American Baptist Men of New York State Disaster Relief is forming a team of men and women to provide aid, comfort, and assistance to victims of Hurricane Florence. The date of departure is October 15th and the date of return is October 22nd. Group will meet at Memorial Park Baptist Church, 1013 Front Street, Vestal, NY 13850 at 10 AM ono the 15th to form car pools. Remaining cars will be parked at a secure location. Destination is Washington, North Carolina, about a 10-hour trip. Will be doing mud-out or chainsaw work. Prepare for both.
Please contact John Tharp by October 1st so the team can arrange for food and lodging. Please indicate if you are willing to drive your vehicle.
jtharpdisasterrelief@gmail.com
John R. Tharp
Director of Disaster Relief, ABMen NYS
523 Court St., Penn Yan NY 14527
315.536.8490 (home); 315.694.1108 (cell)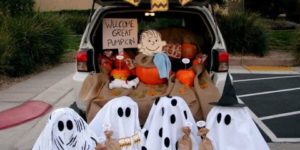 Trunk or Treat Is Coming
Get out your costumes! Time to begin thinking about Trunk or Treat, Wednesday, October 31st.
Donations of candy are requested. A tub is available in the Vestibule for your contributions. Please make sure all candy is unopened and safe.
Trunk or Treat program provides a safe place for young children to do their trick or treating. You may invite your friends and neighbors to join, as well. They can dress up, decorate their trunks, or just come buy to pass out candy and join the fun. Any candy brought to the sight for distribution must be in unopened packages so that we can assure the safety of the event.
Volunteers are needed to staff the cider and donuts table and the church's greeting table.
See Alan Gelatt for more information

For your convenience, the church is now able to receive your tithes and offerings on-line at our secure website: www.tburgbaptist.com. Just click on "GIVING" at the top of the home page and you'll be directed to the giving page. Simply follow the simple directions on the page.

People Caring for People
Please be bear with us and be helpful and supportive as we implement our People Caring for People (PCAP) program in the coming weeks. The program will include a Child Protection Program, Fire Evacuation Plan, Medical Emergency Plan, and a Violent Intruder Plan. These plans will be in place by the end of the summer.


Our vision for ministry: Every person in the church will find an opportunity to participate in a mission or ministry that fits her or his God-given calling, gifts, and abilities, and physical, financial, and family circumstances.