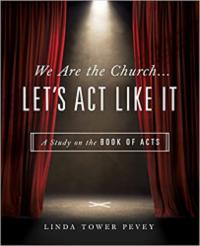 Here is an important Bible Study for this time: We Are the Church . . . Let's Act Like It.
This study will help us to see the church as an essential part of God's plan for salvation, and will challenge us to explore how we can better participate in it. We will focus on the mission Jesus gave the church, how it was born and what it means for us today.
In the book's introduction, the author says that, in Acts, 'the way we've always done it' is not sufficient for the challenges that faced the early church. She says, "New ways of thinking and new forms of ministry come into focus as the leaders realize that God is doing a new thing through the Holy Spirit.
Today, the church faces challenges of its own, many of which are similar to those described in the Book of Acts. We are called to new ways of thinking and new forms of ministry.
Join with members of the church in this study as we prepare our church for Pentecost Sunday, May 28th.
Sundays, 9:30 - 10:15 am, begins April 16.
Mondays, 7:00 - 8:00 pm, begins April 17.
The book may be purchased from the following venders and others: